Description
Location
Windhoek,  Komas Region, Namibia
Category
Resort with accommodation, camping and restaurant
Description
Arebbusch Travel Lodge offers high quality accommodation at affordable rates in a natural setting in Windhoek – a gateway to the many wonders of Namibia's beautiful wide open spaces, it's fascinating variety of cultures, nature, wildlife and majestic sunsets.
Situated on the banks of the dry Arebbusch River, Arebbusch Travel Lodge nestles in the natural surroundings of the "veld". Far from the hustle and bustle of central city life, yet minutes away from the capital's shopping centers and attractions.
Arebbusch Travel Lodge provides a wide variety of "value-for-money" accommodation in a safe, clean and family friendly environment. Accommodation types include luxury accommodation, standard rooms, 2 –6 bed self-catering accommodation units, luxury tents and caravan/camping sites. All accommodation may either be taken on a B&B basis or on a Self-Catering basis.
Facilities
Large & small chalets/rooms: Arebbusch Travel Lodge offers bed & breakfast accommodation in Windhoek in small chalets, standard bed & breakfast rooms as well as luxury bed & breakfast rooms. The luxury rooms are situated at Arebbusch Square (located on Arebbusch Travel Lodge). Breakfast is included in the refundable and non-refundable rates. Please contact us booking enquiry form should you wish to book a small chalet, luxury or standard room without breakfast.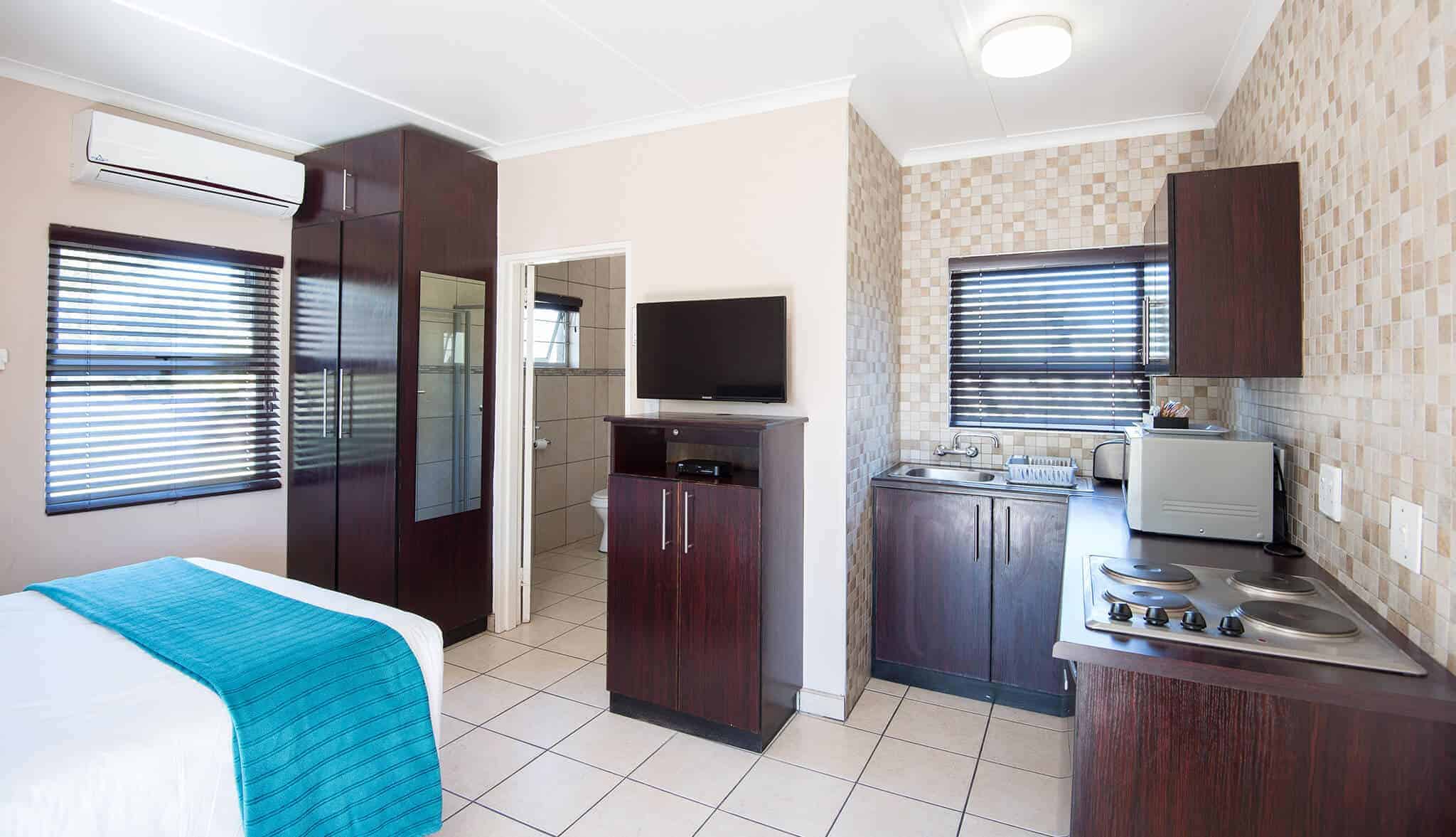 Luxury Cottages: Self-Catering accommodation offers you the option of catering for yourself and the Luxury Cottages are the preeminent form thereof. The self-catering option is ideal for you if you do not want to be bound by restaurant opening and closing times, have special dietary requirements, are travelling with your family or are staying for a longer period of time. You will find the units especially attractive if enjoy braaing or barbecuing – a favourite past time of many Namibians and South Africans. There are two luxury cottages – one which sleeps six people and one which sleeps four people.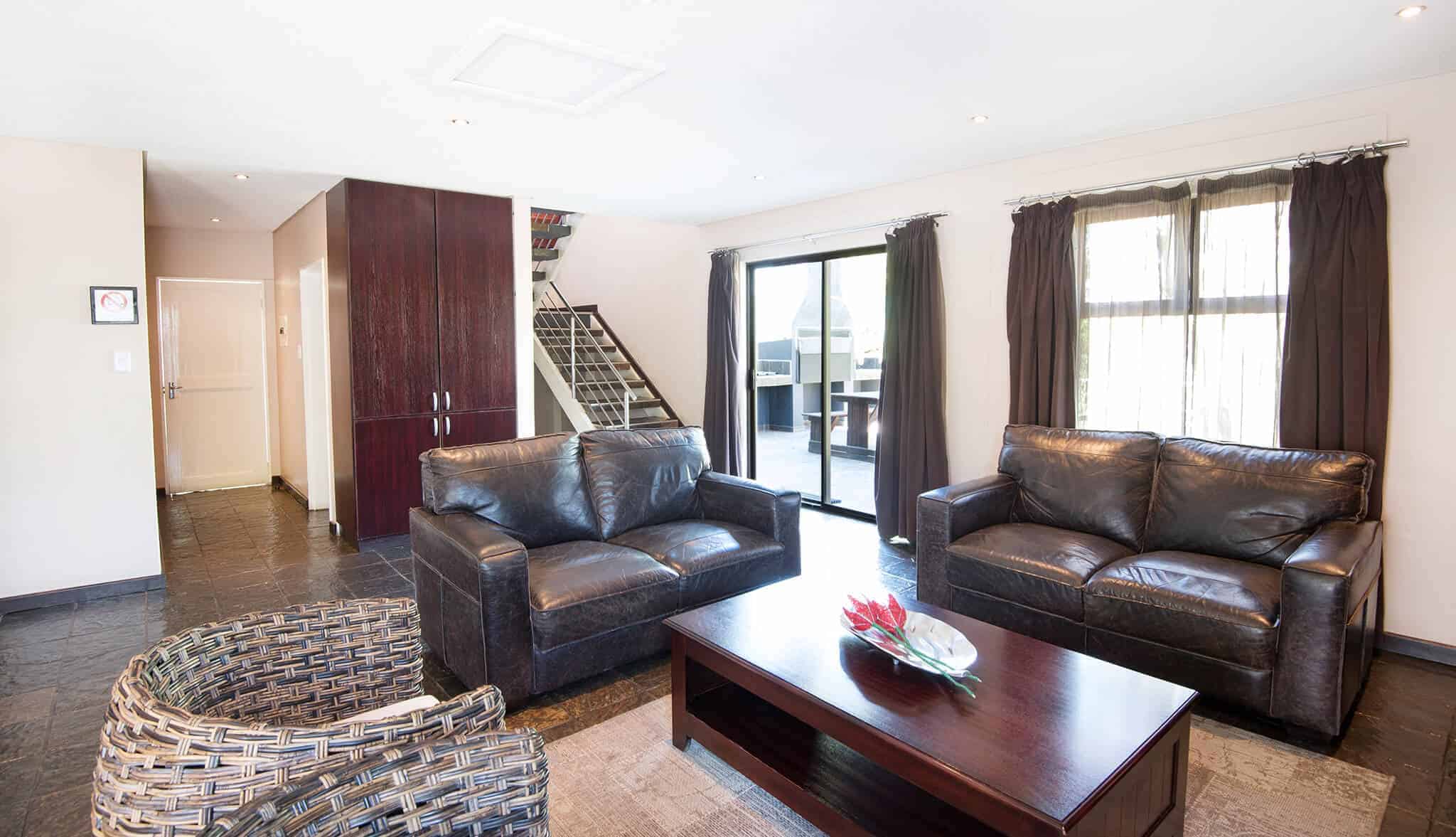 Luxury Villas: These self-contained three-bedroomed houses are beautifully furnished and have every modern convenience to ensure you feel at home.  They even have their own outside entertainment area and walled-off garden with grass and flower beds, giving you the opportunity to relax and enjoy the privacy of your own outdoor space. For your security, each Villa is surrounded by its own boundary wall and palisade fence.   An electric gate gives you access to the unit and its covered carport.  You will receive your own remote for the gate when you check-in.Inside each Villa, the bedrooms are generous and offer comfort and tranquility.  The master bedroom boasts a queen-size bed, flat-screen TV and en-suite bathroom with corner bath and shower.  The second bedroom has a queen-size bed, while the third bedroom has two singles – ideal for children. Other features include a lovely entertainment area consisting of a lounge, with a flat screen TV, and dining room.  Preparing meals will be a pleasure in the Villa's fully equipped kitchen complete with microwave, oven, hob with extractor fan, double door fridge, coffee machine, dishwasher, washing machine, tumble dryer and a wide range of cutlery and crockery.  You are spoilt for choice when it comes to dining options… Should you wish to braai, there is a pleasant outside braai area and facility.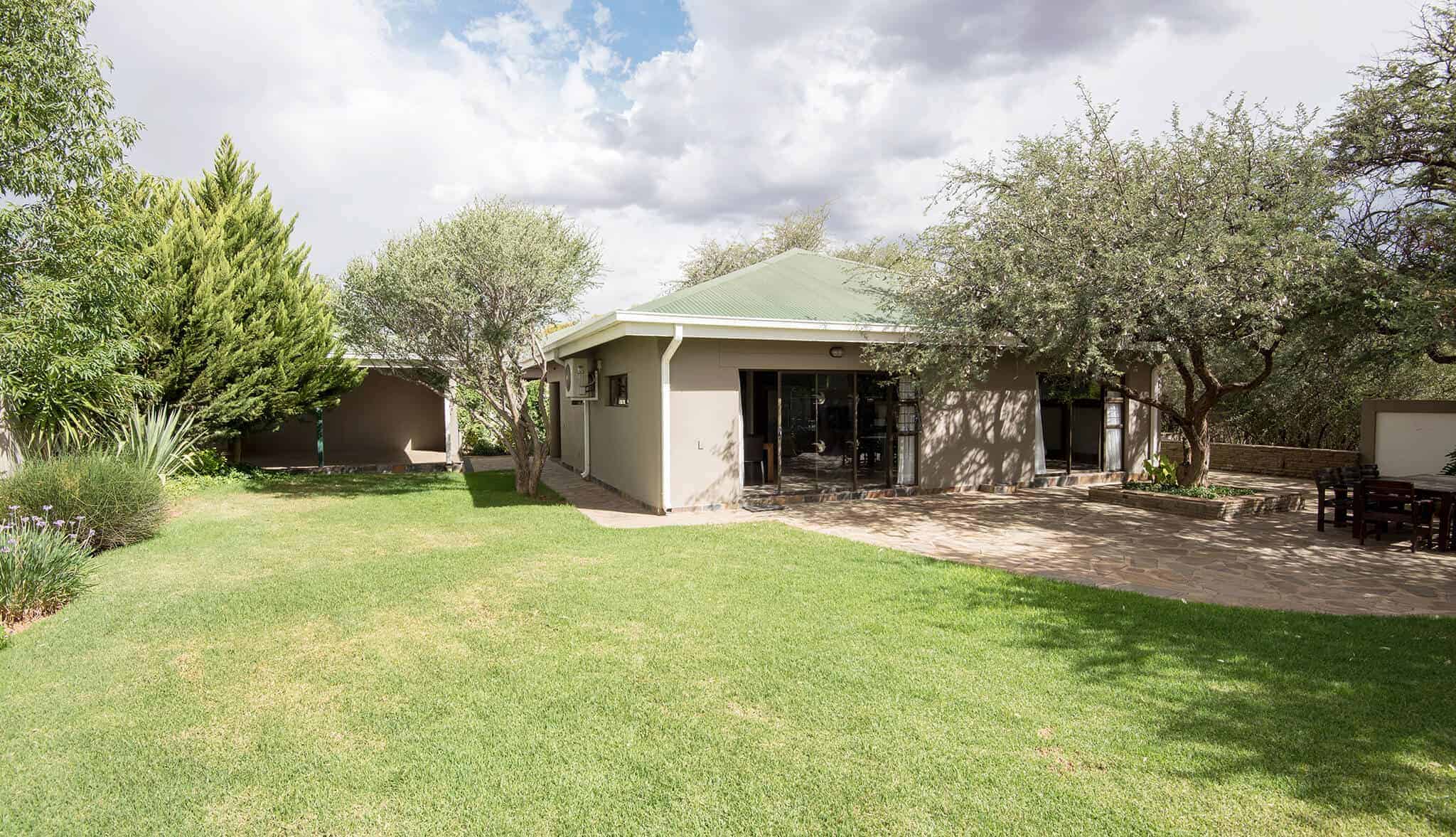 Luxury Tents: Experience the feel of a Namibian safari in the heart of civilization when you stay in a luxury tent at Arebbusch Travel Lodge. These meru-style tents are secluded within the Arebbusch Travel Lodge complex, among the lush manicured gardens, indigenous flora and trees surrounding the property. Each air-conditioned tent offers intimate privacy and convenient facilities such as a fridge and kettle for the overnight traveller. The accommodation has electricity and a spare plug for charging your electronic devices and free Wi-Fi available.
Camping & caravan sites: The camping/caravanning sites are all located within the beautiful naturally occurring "bushveld" on Arebbusch Travel Lodge, which creates a peaceful and relaxing atmosphere. For guests' convenience, there is, within easy walking distance, a swimming pool, a restaurant and a reception, which is open 24 hours a day. There are two types of Camping and Caravanning sites available Luxury & Standard camping
Luxury camping/caravanning site has a outdoor covered wash basin/work area, private bathroom with basin, toilet and shower, power point, washing line, fixed braai/BBQ, and two lockable storage rooms. There is a shade net under which caravans may be stopped or cars may be parked and a separate covered area under which tents can be pitched. A dedicated toilet for caravan septic tanks is located in close proximity.
Standard camping/caravanning sites are all located in shaded areas, mostly under shade nets. Each stand has its own power point and fresh water taps are provided throughout the site. Bathroom and kitchen facilities are located in a communal ablution block and there is a dedicated toilet for caravan septic tanks in close proximity.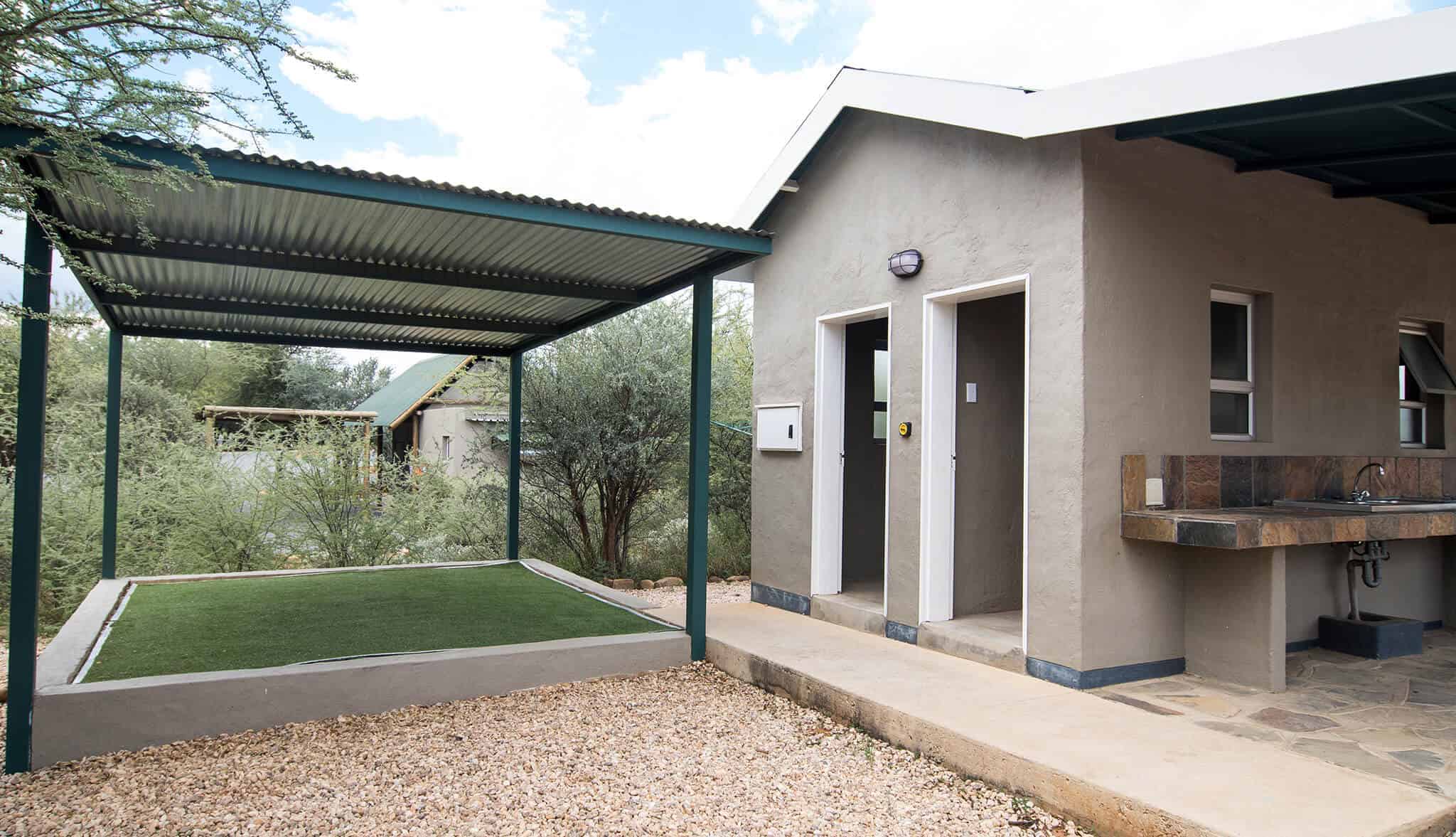 Rates for all other accommodation units exclude breakfast. Breakfast may however be added as an optional extra at the time that you make your booking or at the time that you check-in. Breakfast is served at the Arebbusch Restaurant.
STAYenRoute says:
This is one of the best accommodation facilities you will find on all your travels. It offers a range of accommodation that caters for every need and want. It's is a well run establishment with a long history in the industry.
Rates:
Ranges from luxury to basic accommodation
For information click on the link to send us an email or complete the form on the top of this page.