Description
Location
Nieuwoudtville, Northern Cape, SA
Category
Farm Stays – Self-catering
Description
Soak up the peace and tranquility of this beautiful farm. Stay in the old, beautifully restored stone cottages, in your own private Fynbos setting. View the awesome canyon and its 100 meter waterfall. In spring, enjoy the world-renowned flowers in this Serengeti of the floral kingdom Experience the rich bird life, fauna, and San rock art. Swim in the cool waters of a natural rock pool, or in the pool at the cottages, built to be reminiscent of a farm dam. Hike the trails through sandstone rock formations and don't forget to bring your mountain bike or your 4×4.
Facilities
Papkuilsfontein has 4 beautifully restored stone cottages, set amongst the Karoo landscape as a backdrop. All units are completely self-catering.
Rondekraal:  (sleeps 2) Die Rondekraal is a lovely romantic cottage for a couple only. Built with sandstone and a thatched roof, it is furnished in a manner that maintains its' historical charm.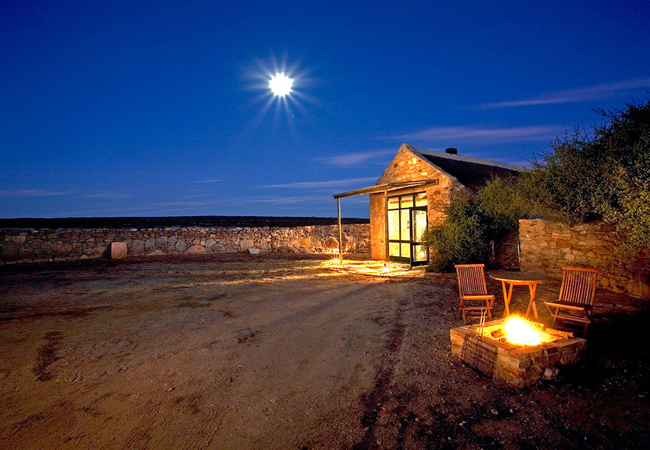 De Hoop: (sleeps 2-4) Part of the original homestead on Papkuilsfontein, the thatch roofed sandstone cottage of De Hoop, was the first cottage to be restored (1987). Set two kilometres from the main farmhouse, it is surrounded by sandstone ruins, which add a certain charm to this setting.
Gert Boom: (sleeps 4-6) This lovely airy cottage, built in sandstone, is on the other side of a rocky ridge from De Hoop. Completely private, with a poplar grove and old pear trees in front of it, restios all around framing the landscape and a view towards the canyon.
De Lande Guest House: (sleeps 8)  As a result of what is happening at the moment, De Lande will be available only for a single group of friends at a time and not mixing different sets of guests in the house, which will be more safe for all.
Jan Voorman: (sleeps 4) This quaint corrugated iron cottage (100m away from De Lande) is set against a gentle slope, offering unlimited views of the vast landscape famous for its bright spring colour. This delightful cottage provides simple yet luxurious accommodation while retaining the comfortable 'farmhouse' atmosphere. Dinner and breakfast are served at De Lande house.
Willem Strydom: (sleeps 4) Willem Strydom House (1.5km from De Lande Guest House and 8km from the main Papkuilsfontein Farm. This very old house is part of the historic Matjiesfontein 'werf' a group of thatch and sandstone buildings evocative of Nieuwoudtville's unique architectural heritage and the idiosyncratic social structures of the late 18th and early 19th century. Willem Strydom house belonged to the artist and marble sculptor, Willem Strydom, where he worked for the past 20 years since moving from Pretoria when he was commissioned to do a huge Namaqua marble sculpture, and fell in love with the open spaces and remoteness of this area.
Campsite: There is one campsite at Pakuilsfontein and can take maximum eight people. Only one group will be booked at camp site.
STAYenRoute says:
One of the best stays we have  ever listed. No words to describe this piece of paradise. The scenery is breathtaking. The cottage an absolute gem filled with character and loving touches. The hospitality the best.
Rates
Rates ranges between R640 to R890 per person per night.
Booking enquiry:
If interested in this STAYenRoute accommodation option, click link  Booking / Enquiry Form  or send us an E-mail
You can also contact us at +27 (0)82 921 4455